1999
Chevrolet
Corvette
Coupe
Request More Info
Make Offer
Finance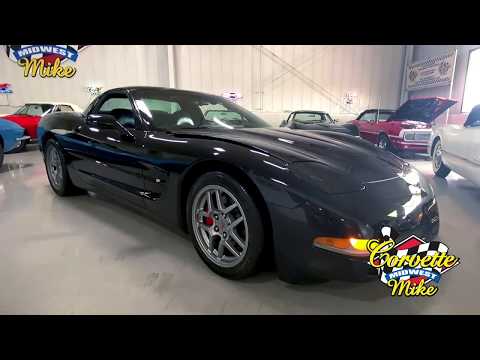 1999
Chevrolet
Corvette
Coupe
Vehicle Highlights
Black on Black
Automatic trans rebuilt to 4L65E spec
2-owner car
Maintenance Records
GM Z06 Wheels, Goodyear F1 ($3000)
GM Z06 Titanium Exhaust ($1900)
GM HPipes with Cat-Backs ($1100)
GM Z06 Brake Calipers ($500)
GM Z06 Air Box ($150)
GM Z06 Grill Air Flow Package ($125)
Description
Newest arrival. More photos coming soon.
This C5 has special upgrades that make it one of the coolest Corvettes on the road.
The basics: The C5 Corvette features world-class electronics, near-perfect suspension, and a rigid structure made possible by the twin, hydroformed side rails. The 1999 Corvettes drive wonderfully.
A 5.7-liter LS1 engine with 350 pound-feet of torque is of the best OHV V-8 powerplants in the world. We like the deep-skirted block, the lightweight pistons and high-flowing aluminum cylinder heads. The block reduces flex, noise, and vibration. All this to say, the fiery 345 horsepower LS1 is thunderous.
This Corvette is nicely optioned. Automatic transmission, Black leather interior with power Sport Seats, memory package, active handling, solid black Targa Top, AM/FM with cassette & CD player, dual zone A/C, fog Lamps and body side molding. And, there's more.
The automatic transmission is rebuilt to more modern 4L65E specifications. The 65 denotes the rating of the vehicle's torque; at 65, this is about 360 foot-pounds, the higher the torque, the stronger the transmission. The E means the transmission is controlled with an onboard computer. This allows more precise shifting cues. This is a desirable upgrade.
Also making this a very special C5 are upgraded factory Z06 Corvette wheels, Z06 red brake calipers, factory Z06 titanium exhaust system and Z06 grills added to the front bumper. It's beautiful.
The previous owner has maintained meticulous records of all service and even has records of gasoline put in the car. We like that kind of Corvette enthusiast.
The C5 Corvettes were praised for being sophisticated, but also turning animalistic when you step the throttle to the floor taking off like a rocket ship. This is an extra-special upgraded car for the money.
Specs
Engine

Engine Size

5.7L V8 OHV 12V
Body

Body Color

Black

Body Style

Coupe
Basic

Year

1999

Make

Chevrolet

Model

Corvette

Miles

74,500
Interior

Interior Color

Black

Center Console

Yes